Stout Braised Lamb Shanks / Chicken Milanese
Episode 104, 'Bittersweet'
Stout Braised Lamb Shanks
1 Tbsp vegetable oil
4 lamb shanks
flour for dredging
2 leeks, halved lengthwise and chopped 1/4" thick
6 cloves garlic, halved or quartered
2 carrots, chopped ½" thick
2 celery ribs, chopped coarsely
2 tbsp tomato paste
1 (12 fluid ounce) bottle stout (such as Guinness®) or porter
1 ¾ cup beef broth
8 to 10 mushrooms, halved or quartered
3 sprigs fresh thyme
1 bay leaf
1 sprig fresh rosemary
2 tbsp olive oil
salt and pepper to taste
Dredge lamb shanks in flour.
Heat oil in a dutch oven or large, wide pot over medium-high heat until shimmering. Sear the lamb shanks in the hot oil on all sides until well browned, about 10 minutes. This can be done 2 lamb shanks at a time, if all 4 do not fit in your pot at the same time.  After browning, remove lamb shanks and set aside.
Pour the excess grease from the Dutch oven, if necessary, reduce heat to medium, and stir in the onions and garlic. Cook and stir until the onions have softened and turned translucent, about 5 minutes.
Stir in the carrots, celery, and tomato paste; continue cooking 5 minutes more.
Return the lamb shanks to the dutch oven, and pour in the stout beer and beef broth. Add thyme and bay leaf and bring to a simmer over high heat.
Once the lamb shanks begin to simmer, reduce the heat to medium-low, cover, and simmer until the lamb is very tender and nearly falling off of the bone, 2 to 3 hours. Stir the lamb occasionally as it cooks, and add water if needed to keep the cooking liquid from becoming too thick (I rarely find this needed.) You want the cooking liquid to have reduced into a nice sauce by the time the lamb shanks are done. Stir in the mushrooms, rosemary sprig, and salt and pepper to taste during the last 10 minutes of cooking. Remove rosemary,thyme sprigs and bay leaf before serving. Serve shanks and vegetables over cous cous or orzo pasta immediately, passing the remaining sauce.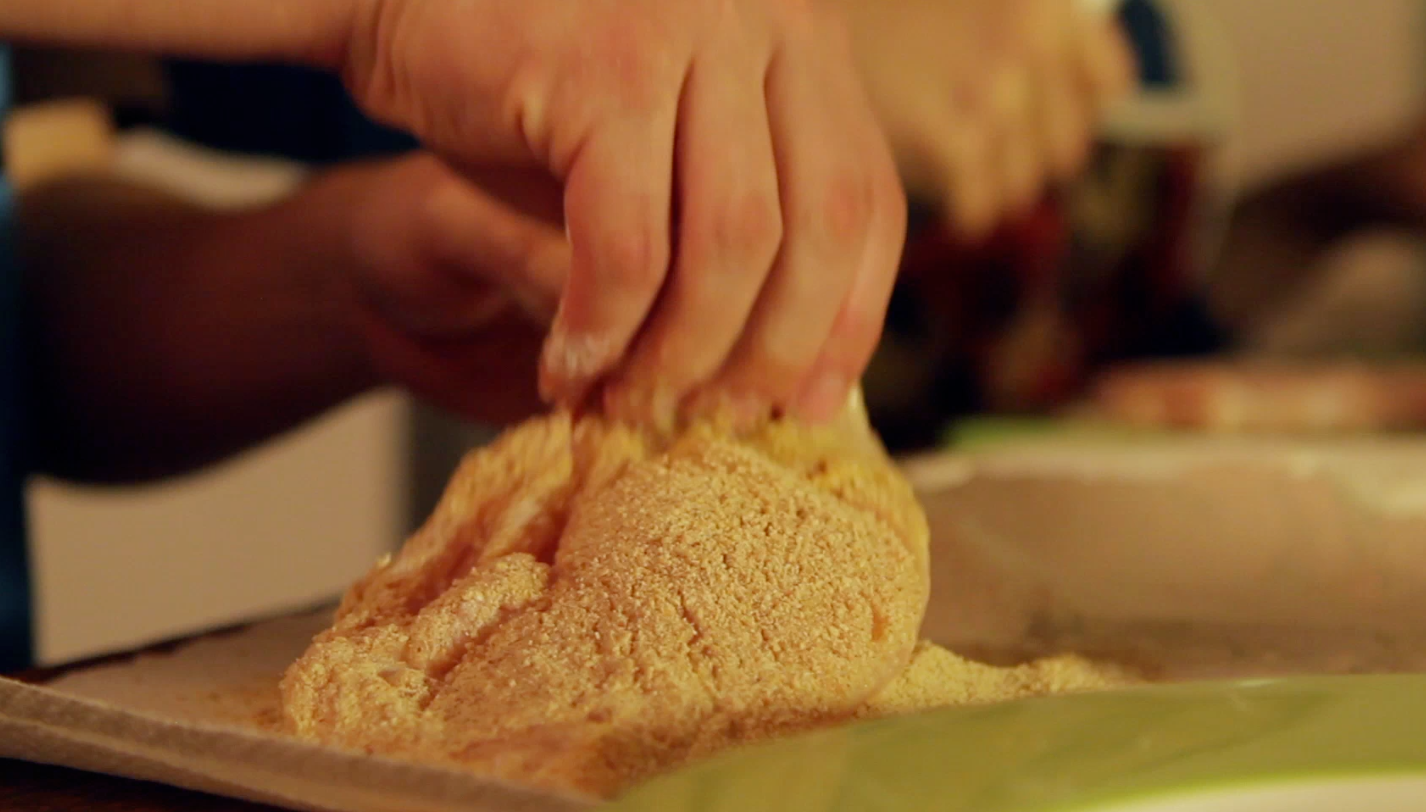 Chicken Milanesa
4 boneless skinless chicken breasts
1 cup flour for dredging
2 eggs for egg wash
1 cup dry breadcrumbs
salt and pepper to taste
2 Tablespoons butter
Using a mallet (rolling pin or small frying pan,) pound the chicken breasts into ¼" thin cutlets. Season with salt and pepper.
Create an egg wash by breaking the eggs into a bowl and adding ¼ cup of water. Beat well with a fork.
Dredge the seasoned chicken in the flour, dip them in the egg wash, and then finally into the breadcrumbs.
Melt the butter in a large pan, then add the breaded chicken to the hot pan. Cook until golden brown on each side, about 5 minutes per side.